Blog
By Sundas Warsi, CHIP
Vaccinations are effective and protect children from deadly diseases. This is a cause which requires consistent efforts to mark sustainable improvements in the immunization coverage rates and hence reduce infant mortality rates of the country. According to the World Bank, infant mortality rate of Pakistan is estimated to be around 66 per 1,000 live births
[1]
. During 2014-15, Pakistan's national immunization coverage rate was estimated to be around 57% based on record
[2]
with great disparities among provinces. At subnational (provincial level), Punjab has highest coverage rate of 65%, Khyber Pakhtunkhwa has coverage of 53% whereas Sindh has 42% coverage and Balochistan has coverage of 29%, PSLM 2014-15. 
Civil Society Organizations (CSOs) are flexible, adopt innovative approaches and specializes in different models for improvement in health and immunization. CSOs programmes revolve around community mobilization, research, advocacy, awareness raising, monitoring and service delivery for reaching difficult, neglected and hard to reach areas. CSOs also work in security risk areas through local staff to ensure vaccination in such areas. CSOs are also viable in addressing refusals due to continued and consistent efforts, credibility and effective communication strategies. The social mobilization and deep roots in communities are core of any activity that CSOs undertake. CSOs have also been instrumental in making a remarkable different in coverage rates in urban slum areas.   
Pakistan CSOs Coalition for Health & Immunization (PCCHI), is a national level, immunization platform, who aims to support, organize and strengthen CSOs to extend support to EPI for improving immunization coverage rates in Pakistan. PCCHI has 81 members from Sindh, Punjab, Khyber Pakhtunkhwa and Balochistan. It has its governing bodies i.e., National Executive Body and Provincial Executive (one for each province). Over the years PCCHI has been putting efforts to establish a healthy working relations with EPI Cells at Federal and Provincial level. PCCHI has been guiding and regulating CSOs to coordinate with their respective EPI teams at Provincial and District Level for integration and planning of immunization related interventions. Infact it is one of the objectives of PCCHI to facilitate and improve capacity of CSOs to contribute to national health sector planning and coordination. Given the complex situation of Pakistan with respect to immunization, it calls for more coordinated efforts from partners and stakeholders at all levels. The two way communication and harmonization will allow to capitalize on each other's strengths for better results. It will also help EPI teams to utilize CSOs strengths in the areas where required and ensures best utilization of resources. It has been learnt that working in isolation may not address the issue and may not generate sustainable results.

One such event where PCCHI and its member CSOs effectively coordinate with EPI teams has been World Immunization Week. Every year, PCCHI coordinates with EPI at Federal Level for a joint planning of the week. At the same time, PCCHI encourages its member CSOs to coordinate with Provincial and District EPI teams to participate in the planning meetings. Last year, PCCHI developed advocacy messages and disseminated leaflets, wall posters and banners among its member CSOs.

CSOs from each of the four provinces i.e., Sindh, Punjab, Khyber Pakhtunkhwa and Balochistan came forward and organized events such as: awareness walks, advocacy seminars, sessions with communities and teachers, etc. Almost 25 CSOs shared reports and pictures of activities. Many CSOs organized awareness raising session in schools reaching to 1,083 children from Sindh, Punjab, Khyber Pakhtunkhwa and Balochistan. CSOs also arranged vaccination camps in more than 35 different locations from Sindh, Punjab and Balochistan vaccinating about 5,224 children. 

(1)   http://data.worldbank.org/indicator/SP.DYN.IMRT.IN?locations=PK  
[2] Pakistan Social Living Measurement Survey (PSLM) 2014-15 
RESULTS Canada - Kristiana Bruneau and Madison DeLong

A Pakistani female vaccine worker carries a cooler of polio vaccines to the remote town of Harnai. Today she will have to administer 50 vaccines. This is her third visit to Harnai in three months and she now knows all the children there. Some of them wait for her up the street. They giggle and scatter as she approaches. She's on a first name basis with many of the mothers, and some already feel like friends. Sitting with them in their homes they now ask her advice— "is his weight normal for his age?" She assures them that indeed the boy is normal weight for his age. She enjoys getting updates on how the children in the community are doing, "the youngest has had a growth spurt, I see," she comments with a laugh.
Many of these mothers are not able to leave the house without the company of their husbands, making doctor's visits hard. The social and cultural barriers that girls and women face, for just being female, can be restrictive. This is why the home visits of the Female Vaccine Workers are integral to ensuring each of the mother's children get their three doses of oral polio vaccine; and a key reason why there is equal vaccine coverage between boys and girls, despite the barriers that women and mothers face accessing health care in Pakistan.
Back in March, RESULTS Canada sat down with Raseema Alam, a board member of RESULTS Canada who formerly worked for UNICEF in Pakistan and Afghanistan on polio vaccination campaigns. In short to ask her—are women important to the success of vaccine campaigns and are driving improved child health? The answer?  Yes, very much.
 
"Female vaccine workers are community champions that help women and children safely access healthcare." In many rural settings they are often the only access point to basic health care, including nutrition education and identifying basic illnesses in children. One key reason for this is female health care workers are often members of the community or districts they serve.  "This has the unintended consequence of turning female vaccine workers into community leaders that spur civic engagement and community strength."
Mothers are also key drivers of this change, Raseema added. "Mothers have a strong impetus to be powerful advocates for vaccination because they see the future, they see their children, and want to prevent their unnecessary death.  They really understand the weight and the responsibility of raising healthy children, and the burden of worry that often falls disproportionately on them." Adding that, "Once mothers are educated about vaccination, they understand that they have the tools to prevent unnecessary deaths, and they are motivated to engage their communities and networks and amplify the cause of vaccination. Their huge role in vaccination program delivery is truly an act of solidarity with the other mothers in their communities."

Like Raseema, the Canadian Government have also recognized the essential role of girls and women as drivers of change. As stated in the government's Feminist International Assistance Policy, "women and girls have the ability to achieve real change in terms of sustainable development and peace, even though they are often the most vulnerable to poverty, violence and climate change."

This sentiment has been reiterated within Canada's Group of 7 (G7) Presidency whereby women and girls equality and empowerment are both a key focus of this G7 year, as well, earmarked as a crucial requirement and aim within the presidency's five themes.

Departing from recent years, a G7 country will not be hosting a Health Ministerial during its presidential year. Canada has not prioritized basic primary health care and health for all (like routine immunization) as a key element to the achievement of their vision of girls and women's empowerment and equality. A sentiment that is echoed within Canada's Feminist International Assistance Policy as well.

Which bears the question: With 19.5 million infants missed every year by basic vaccines or only 5% of the world's children receiving all 11 World Health Organization recommended vaccines, what does that mean for the advancement of equality and empowerment of girls and women? What does it mean for her equality when a girl child is missed by a basic health provision like vaccination? How does a young woman or mother access opportunities fostered in the other thematic areas when as a primary caregiver she is disproportionately impacted by a chronically unwell unvaccinated child?

As Raseema reminded us, women are more likely than men to lose profits, lose wages, lose their jobs and/or be less able to advance in their careers because of the disproportionate burden of caregiving.  Healthy and vaccinated children mean greater opportunity for mothers to re-invest earnings and time to her family, to her future, to the realization of greater equality and empowerment. Also, given that we know that girls are more malnourished and have less access to education than boys do, a missed vaccine and decreased chance for ideal health, will compound the inequitable barriers already stacked up against her.

As women continue to drive sustainable change in their communities and societies, in tackling barriers to health care, and being champions for health; are we doing enough to ensure that that impact and drive are paid forward? We need to ensure, in our vision of equality and empowerment, that women and girls enjoy the same equitable access to health care and the benefits of good health, as that which they are driving forward for others.

RESULTS Canada. "A female infant receives her vaccine in the health clinic in her woreda (district) – mothers and female health workers are key champions of child health"
By Rick Santos
President and CEO, IMA World Health and
member of the Gavi CSO Steering Committee and Chair of their Oversight Advisory Group
---
As he holds his 3-year-old daughter under the shade of an acacia tree, the look of relief on Lual Dau Lual's face is quite visible. A test had just confirmed his little girl did not have malaria.
What might be more important, however, is the conversation that followed. A community health worker recently trained by
IMA World Health
advised the young father about other risks, and the vaccinations that might save his daughter's life.


As a civil society organization that helps developing communities to overcome public health challenges, promoting vaccination in conversations like this one is a critical component of our work. Community health workers are trained to promote vaccination at every opportunity, and their efforts are more critical now than perhaps ever before. There are more than 19 million unvaccinated or under-vaccinated children in the world, putting them at serious risk of these potentially fatal diseases.

Yet it's not just families in developing countries who are put at risk without vaccinations. There are more people displaced from their homes today by violence and disaster than at any period since World War II. People are on the move - and so are the diseases vaccinations aim to contain.
Civil society has long understood vaccinations to be a cost-effective investment in public safety, and in unlocking the potential of millions diseases bind in poverty. The World Health Organization estimates if we increase vaccine coverage in low- and middle-income countries by 2030, we could prevent 24 million people from falling into poverty under the weight of health expenses. Vaccinations are therefore a critical investment in achieving the Sustainable Development Goals.
The potential protection afforded by vaccinating children is staggering. Yet the only thing that matters to Achol is his daughter's health. After a brief exchange in Dinka, he nods in agreement, giving the health worker permission to inject vaccines that will protect her from pneumonia, and measles, mumps and rubella.
The needle's point brings a quick tear from the 3-year-old squirming in her father's lap. Yet it's a miniscule moment of pain compared to the protection her vaccinations bring her, her family and the rest of the global community.

In the second in our series of "Meet the Gavi CSO Constituency Board Team" we meet Craig Burgess, CSO Board Alternate.
 Equity and integration for health system strengthening.  These are Craig Burgess's-- Senior Technical Officer, John Snow Research and Training Inc. (JSI) and Gavi CSO Board Alternate-- two main passions. Recognising immunisation can be at the core of driving both of these agendas, Craig has been an enthusiastic champion of vaccines and their delivery for over 20 years.
 As a technical adviser, Craig works on a number of JSI projects. He works collaboratively with some of the world's biggest partners in immunisation and global health, to develop projects which will have the biggest impact on the provision of essential health services that target the most vulnerable. This includes analysing and providing evidence to help develop essential healthcare packages, in the context of Universal health care, and supporting the introduction of new vaccines. Further, with his health policy, planning and financing background, Craig helps develop the evidence needed by policy makers to inform their decision-making around how much new technologies (such as vaccines), will cost to sustainably fund and deliver – essential analysis to make sure vaccines are affordable and actually reach those who need them the most. 
 Craig is a trained physician and has always had an interest in infectious diseases. Studying in St Andrews, Manchester and Liverpool in the UK, he is one of very few of his classmates (if not the only one!) who now works in global public health. Starting his international career with MSF, he worked in South Sudan, Afghanistan and Myanmar on a number of projects focused on primary health care, maternal and child health for displaced populations and various infectious disease control projects. These first positions sparked his interest in the role of immunisation from a prevention of infectious disease perspective; he then went on to work in the South East Asia WHO Regional Office on immunisation systems for a number of years and has also worked for UNICEF in Vietnam on integration and primary healthcare, and several other low and middle-income countries. All of his projects have been grounded in the goal of working towards Universal Health Coverage (UHC).
 The CSO Gavi Board Alternate role is not Craig's first encounter with the Gavi Alliance. He worked for Gavi from 2006 to 2010, when the decision was first made for Gavi to proactively engage, collaborate and fund civil society as one of the GAVI Alliance's key partners. Back then, the CSO engagement with Gavi was through a small informal working group. One of Craig's proudest achievements is being part of this critical relationship at the start, especially seeing what it has turned into. The Gavi CSO Constituency now has over 4000 civil society members, which is supported by a 16-member Steering Committee which Craig is also part of (you can see a full list of members here. Look out for more details on how you can apply to join later this month).
 So why apply to be the CSO Board Alternate? From his experiences over 10 years ago in setting up Gavi's engagement with CSO's, he has remained passionate about wanting to represent the voices of the vulnerable, ensuring that opinions and experiences of the people who miss out on immunisation are heard; these people are the ultimate beneficiaries of all Gavi policies and must be listened too. He passionately believes these are the voices which must be heard within the GAVI Alliance and is enthused by the diversity of other CSO partners on the Gavi Steering Committee, which he works with to ensure these voices are heard, "It is a privilege to work with so many different people with so many varied perspectives and backgrounds, who are passionate to make a change."
 Looking ahead, Craig believes there is one main challenge that the Gavi CSO constituency and Gavi CSO Board members can help the world deal with – promoting the understanding of the value of civil society. CSO's play a critical role in immunisation and Universal Health Care. They can deliver vaccines, where government services are not able to reach or are inadequate, they provide technical support to service delivery, they speak up on behalf of those who cannot themselves, they design and monitor services to make sure they are appropriate to reach every last child, and they can hold government and donors accountable for their commitments made. Too often though, their role is overlooked and underestimated. The accountability role they play in highlighting governments or partners when they are underperforming or services are not provided, is not always welcome – but without greater accountability for immunisation, too many children will continue to miss out on life saving vaccines.
In order to face these challenges head-on, the Steering Committee of the GAVI CSO Constituency, are developing a 2018-2019 Strategic Framework. The principle aims of which are threefold:
Support increased vaccine coverage
Contribute to improving the current model in order to boost immunisation
Support strong, well-coordinated, adequately resourced CSO involvement and inclusion

  
Despite ongoing efforts, we recognise that there are pockets of the globe which remain unreached. These are the peoples who so desperately need the support offered by Gavi, its partners, and grass roots organisations. Therefore, increased immunisation coverage features as one of the three aims outlined in the new Strategic Framework. In order to achieve this, we seek to align policies, whilst boosting cooperation between other actors in the field of global health.     
But there are also pitfalls and shortcomings in the current model, which ultimately prevent us from meeting our coverage targets. We will need to find solutions at the margins of eligibility criteria and the transition policies, so as to ensure lasting health outcomes and to build on what has already been achieved. Hence our second strategic aim, which seeks to facilitate such change. A review of the current system with the help of CSOs, combined with advocacy, will allow us to develop more appropraite strategies to reach the under-immunised. In doing so, it will strengthen the whole system all the way along the chain.
CSOs play a crucial role in immunisation. As demand generators, educators and vaccine delivery providers; civil society agents are the sustainable lynchpin of comprehensive coverage. This is nothing new, but as a Constituency we want to continue promoting their invaluable work. This is reflected in our Strategic Framework, where over the coming months we aim to boost inclusion, increase dialogue, and capitalise on competencies and skills.
The new strategic plan aims to facilitate the best possible practices from local to global level, whilst ensuring increased exchange of knowledge and ideas among all CSOs. As we move into the new year, let us embrace change, engage in communication, and pursue partnerships, in order to maximise vaccine coverage and continue to combat global health inequalities. 
GAVI helps deliver life-saving vaccines to children like this young resident of a home in the Uganda village of Busanza, Uganda. 
Photo by David Snyder for CRS
"Rushing in the house like a trapped animal holding her grandchild in her hands, my mother quickly went to hide from what I thought was a wild creature chasing her. Who could have made this brave woman run for her life? I wondered. I hesitantly sneaked my head out of the door just to find out that it was a frail community health outreach worker who was going from door to door to vaccinate children…"
As I was listening to my friend relate the story of her mother trying to prevent her nephew from getting vaccinated, I was not sure if one should laugh at this story or rather be sad and alarmed that in this day and age people still shy away from immunization in the belief that they are protecting their children by not vaccinating them. For sure, there is still a lot of work to be done to promote immunization.
 Recent World Health Organization (WHO) estimates indicate that 1.5 million children die every year from vaccine preventable diseases (Sage 2014). As a response to this trend, WHO member states adopted the Global Vaccine Action Plan (GVAP) in 2012 to improve the reach and reliability of vaccine delivery. The main goal of the GVAP initiative was to attain a three-dose diphtheria-tetanus-pertussis (DTP) immunization coverage of 90% in all countries and 80% in all districts by 2020. According to Sage (2014), however, this goal is unlikely to be attained due to a number of obstacles including weak immunization demand related to local social-cultural and religious beliefs (as was the case with my friend's mum), weak leadership, weak management and coordination, and challenging country contexts such as political conflict and epidemics such as the recent Ebola outbreak in West Africa. Addressing such challenges requires joint efforts from individuals, communities, governments, health professionals and civil society organizations (CSOs) (GVAP 2012). Because CSOs are rooted in the communities they serve, they are in a unique position to understand, articulate, and address the challenges facing local communities. As a result, CSOs are increasingly consulted by international organizations to contribute to health system strengthening in developing countries. The Gavi-funded CSO Constituency Platforms Project implemented by Catholic Relief Services in 24 countries (16 of which are in Africa) provides an instructive example. The project aims to facilitate CSO involvement in strengthening immunization systems. The project seeks to harness CSOs' capacity to integrate into communities and win their trust, and to expand access to immunization services for those in hard-to-reach areas, including displaced persons and nomadic groups.
Most importantly, CSOs take on the difficult task of changing social behavior. They work to educate households so that caregivers will no longer hinder the vaccination of their children due to preconceived ideas on the effects of vaccines or just maybe because of lack of knowledge on the benefits of vaccines. In fact, CSO platforms taking part in the Gavi CSO Project do not hesitate to explore different avenues to best address caregivers' hesitance to get their children vaccinated. CSOs often organize vast community mobilization activities, talk shows, radio shows and household visits to educate caregivers on the need for their children to be vaccinated to avoid diseases and strengthen their immune system. CSOs even make use of entertainment education, such as puppet shows in Madagascar and collaboration with local pop stars to create educative songs on immunization. CSOs also increase men's involvement in child care, encouraging them to accept joint responsibility for ensuring that children are vaccinated.
The success of this health initiative relies on CSOs' familiarity with local communities, as this enables them to understand and address some of the socio-ecological barriers to immunization. The contributions of CSOs to immunization are broad and include service delivery, demand creation, accountability, disease surveillance, and advocacy for equitable access. More specifically, CSOs activities contribute to the GVAP strategic objectives as follow:
 GVAP Strategic Objectives

CSOS contributions to GVAP Strategic Objectives

1: All countries commit to immunization as a priority

support local CSOs and professional associations to contribute to national discussions on immunization and health
develop and disseminate the evidence base on the public health value of vaccines immunization and the added value of achieving equity in access and use of immunization
include immunization in the agenda of governing bodies meetings
create regional forums and peer to peer exchange of information, best practices and tools
create expanded and more transparent mechanisms for aggregating, sharing and using information to monitor commitments

2: Individuals & communities understand the value of vaccines and demand immunization as both their right & responsibility

engage in dialogue that transmits information and responds to people's concern and fears
create incentives for households and health workers in favor of immunization
train health workers in effective communication techniques & advocacy
engage enable and support CSOs to advocate the value of vaccines to local communities, policy makers and local and global media
develop and implement targeted strategies to sensitize vulnerable communities on their needs for vaccination for their survival
use the Internet, radio, television to inform residents and health professionals about vaccines; feature immunization champions such as film stars and famous athletes to communicate information
write and publish articles & books about immunization

3: The benefits of immunization are equitably extended to all people

engage underserved and marginalized groups to develop locally tailored and targeted strategies for reducing inequities
prevent and respond to vaccine preventable diseases during disease outbreaks and humanitarian crises and in conflict zones (Ebola in Guinea)
track individuals' immunization statuses
take advantage of communities' structures to enhance communication and deliver services
involve CSOs in community outreach and planning
develop new approaches to community engagement for urban and peri urban areas
train health workers and CSOs in engaging communities
advocate to health officials to ensure that vaccination campaigns cover mobile and rural populations and minorities

4: Strong immunization systems are an integral part of a well-functioning health system

develop and promote the use of new technology for collection, transmission and analysis of immunization data
promote coordinated training and supervision of community based health workers

 

5: Immunization programs have sustainable access to predictable funding. Quality supply and innovative technologies

advocate for new and more effective vaccines, affordable vaccine prices, funding for vaccine delivery equipment and their equitable distribution

 

6: Country, regional and global research and development. Innovations maximize the benefits of immunization

advocate for new and more effective vaccines, affordable vaccine prices, funding for vaccine delivery equipment and their equitable distribution

 
Thanks to the efforts and particular expertise of CSOs, and funding and support from Gavi and CRS, more and more people understand the benefits of immunization – and fewer and fewer caregivers are rushing into their houses to hide from wild-beast health outreach workers when they come by with life-saving vaccines.  For sure there is still a lot of work to be done to promote immunization. That said, there is hope and I can see light at the end of the tunnel.
By Aurelia Somda, Catholic Relief Services, Gavi CSO country platforms project, Burkina Faso
Dates of activity

1-4 June 2017

Location of activity

Kajiado North Sub-County in Kajiado County, Kenya

CSO platform

Health NGOs Network (HENNET) Kenya

Key partners in activity

Kajiado County Ministry of Health; Action Now Kenya; Restoration of Life Centre; Local Administration; Karen Hospital

People reached

Five community health volunteers conducted door to door mobilization, reaching 299 children

Funding

Gavi CSO Constituency Platforms Project

Contribution to Global Vaccine Action Plan

Strategic Objective 2: Successfully change immunization-seeking behaviors in the communities where you work, convincing people to get vaccinated and demand vaccination services

Contribution to Gavi Strategy 2016—2020

Goal 2:  Increase effectiveness and efficiency of immunisation delivery as an integrated part of strengthened health systems

 

Part C: Strengthen engagement of civil society, private sector and other partners in immunisation
The Health NGOs Network (HENNET) of Kenya, with Gavi support, conducted
Immunisation Sunday
on 4 June, 2017, in Kajiado County, Kenya, to increase the knowledge and acceptance of immunisation among religious leaders and community gatekeepers. The aim of the sensitisation meetings was to encourage religious leaders to use their platforms of influence to accelerate routine immunisation in the communities they serve. The name "Immunisation Sunday" came about following the enthusiastic response of a religious leader who immediately organised an "immunisation day" after meeting with HENNET members. 
Immunisation Sunday was conducted with the support of the Ministry of Health Kajiado County. In preparation, five community health volunteers conducted community outreach activities to sensitize the population to the upcoming activity. The turnout was good and nearby communities embraced Immunisation Sunday, bringing their children for the occasion. Despite the fact that this was being done in a Christian church, a Muslim Imam from a local mosque also attended and spoke to the Christian congregants on the importance of immunisation and why all religious leaders should embrace vaccination services. He reminded the congregation that "prevention is better than cure." Religious leaders shared messages on the importance of routine immunisation and the need for community ownership of child health. The unity shown between different religious groups during the activity drove home the message on the importance of immunisation. The service was followed by a health session near the church, which resulted in 299 children under age five being vaccinated, receiving de-worming treatment and having access to other curative treatments.  
Immunisation Sunday brought together a number of stakeholders from different local health departments, resulting in an integrated approach to service delivery that included HENNET support.  In addition, the close relationship with religious leaders and community gate keepers in Kajiado County has made it easier for HENNET to work within the local communities and to understand the dynamics that often derail health-seeking behaviors.
Immunization Sunday demonstrated that the involvement of grassroots stakeholders and the influence of local leaders can accelerate community ownership of child health services. It also showed that health facility hours may not be convenient for all, and that using other institutions as service points can help to improve  access to, and demand for, routine immunization services.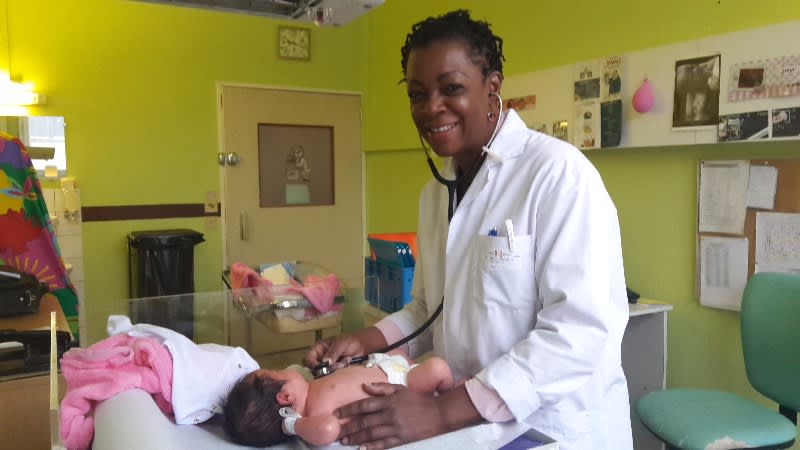 As a child Dr Clarisse Loumou dreamed of being a doctor and now she is a world renowned paediatrician, founder of a Civil Society Organisation (CSO) Alternative Santé and the Gavi CSO Steering Committee representative on the Gavi Board.
She began her career in one of the largest paediatric hospitals in Cameroon where she realised that sadly many mothers arrived too late for treatment. 
"I quickly learned that maternal health was a big issue for women but I was also shocked by the numbers of children dying not only because of lack of health information in the communities but also the inability of families to pay for care," says Dr Loumou.
 Dr Loumou started Alternative Santé (NGO) in Cameroon because she saw it as the best way to bring solve this problem and work with women and children to get them proper mother and child services.
 Since joining the Gavi CSO Steering Committee in 2010, Dr Loumou has seen a great improvement in the understanding of the role that CSO play in supporting the work and aims of Gavi.
 "I've seen the impact of CSOs grow within Gavi because we've become more confident about the important role we have in developing new ideas and giving practical advice. We are also gaining efficiency and becoming more impact driven."
CSOs are working on the ground in communities which means they provide vital feedback on the challenges and needs of implementing vaccination programs in country on a day-to-day basis.
 "CSOs provide a reality check is critical to the ongoing work of Gavi. The more CSOs that engage directly with the Gavi CSO platform or directly contact me or my advisor the better we can make the more effective we can make Gavi's work. "
 Among her achievements, Dr Loumou was instrumental in setting up the Francophone CSO Network for Vaccination and Immunization Advocacy (OAFRESS) in francophone African countries after she became aware francophone countries were almost totally absent from the Gavi CSO constituency forum. It was also clear that these countries were falling behind in vaccination coverage.
 "The lack of participation of francophone CSOs in the Gavi CSO constituency forum meant we needed to create a forum to bring this group on board. Now that it is established OAFRESS can develop sound advocacy in sub regional, regional, and global processes for francophone countries."
 Looking forward Dr Loumou sees two main focuses for the CSOs when working with Gavi which are the enhancement of routine immunization – we  need to walk the talk and reach global country targets – and countries need to step up and increase their health financing so that progress are sustainable.
 "We need global solidarity on immunisation and we need everyone to pay their share – to be most effective we need agreement between country and a global obligations."
 Since her early days as a young paediatrician Dr Loumou has become as a mother of three daughters who are regular reminders on the importance of child health and that motherhood is a complete life lesson.
T
he bi-annual Gavi CSO Steering Committee meeting has begun, hosted in Geneva, Switzerland, by the International Federation 
of Red Cross and Red Crescent Societies. 
During the meeting, which will run from 8-10 May, the Steering Committee will welcome five new Steering Committee members and say good bye and thank you to colleagues whose 3-year terms have finished.
Basic immunisation is still inaccessible to 1 in 7 children, and, over the last five years, improvements in global immunisation coverage rates have only increased incrementally. Yet, just six years ago, all countries agreed to reach 90% coverage of the basic vaccine package by 2015. So far, 68 countries are not reaching the target, and since 2010, the vast majority of these countries have not made improvement toward achieving it. Why does there remain such a large gap between commitments and action?
 This target, along with many others are set out in the Global Vaccine Action Plan (GVAP). But how can global goals, which are so easily missed, really drive change on the scale we need to see it? The GVAP sets out six principles that were supposed to do this and allow countries to realise the full benefits of immunisation to all people, regardless of where they are born, who they are, or where they live.
One of these guiding principles relates to the need for ownership of immunisation systems. Immunisation is a core part of primary healthcare, and plays a key role in strengthening the whole supply infrastructure and care system. With approximately 30 vaccines delivered every second, this is 30 points of contact a child and their wider family has with the health service, with the opportunity to be checked and treated for a number of other health concerns. However, it will only reach its full potential if governments show leadership and political will in committing to the full financing and delivery of the routine immunisation programme through country ownership.
Country ownership requires three distinct elements. Firstly, it must start with high level political commitments to improve immunisation rates at all levels of government. Secondly, sustainable domestic financing must also be a priority to support the continuation and improvement of services, particularly at a time when financial support from donors is changing. Finally, improved policy and programme implementation with a focus on equity is essential to reach all children with WHO recommended vaccines. Political commitments and domestic financing will be pointless without the technical capacity to turn ambitious commitments into action.
 There are critical roles for civil society, the donor community, and technical partners to play. Donors and technical partners must support this process through sharing skills and building government capacity, ensuring that changes in critical financing streams don't take place until certain coverage levels have been reached. Civil society and parliaments have an equally important role to play in holding their governments to account, ensuring funds reach the right places and that all children are reached.
By  Dorothy Esangbedo, the President of the Union of National African Paediatric Societies and Associations (UNAPSA) and a member of the Executive Committee of the International Paediatric Association (IPA), and Amy Whalley is Head of Policy Advocacy at RESULTS UK. Originally published by Vaccines Work.